Now including AV block detection, fast-track analysis, and a new layout
We're excited to unveil some significant updates, news and improved features of Cardiomatics v5 that help medical professionals interpret ECG easily and quickly with the use of high-accuracy AI.
World's 1st MDR Certification for automated ECG analysis using the power of AI
Today we share thrilling news for the MedTech community and cardiologists! Cardiomatics obtains the World's 1st MDR Certification in the category for AI-based long-term ECG interpretation software.
This is an important step on Cardiomatics' journey to make diagnostic cardiology more insightful, productive, and enjoyable. With the MDR certification in place, medical professionals and partners can be even more confident that Cardiomatics' solution has been shown to be safe and effective in compliance with the latest applicable standards and regulations.
The Medical Device Regulation (MDR) has replaced the earlier European Medical Device Directives (MDD) with stricter rules for the approval of medical devices. These more stringent requirements were introduced to improve the quality, safety and reliability of medical devices, strengthen transparency and information for patients and enhance vigilance and market surveillance.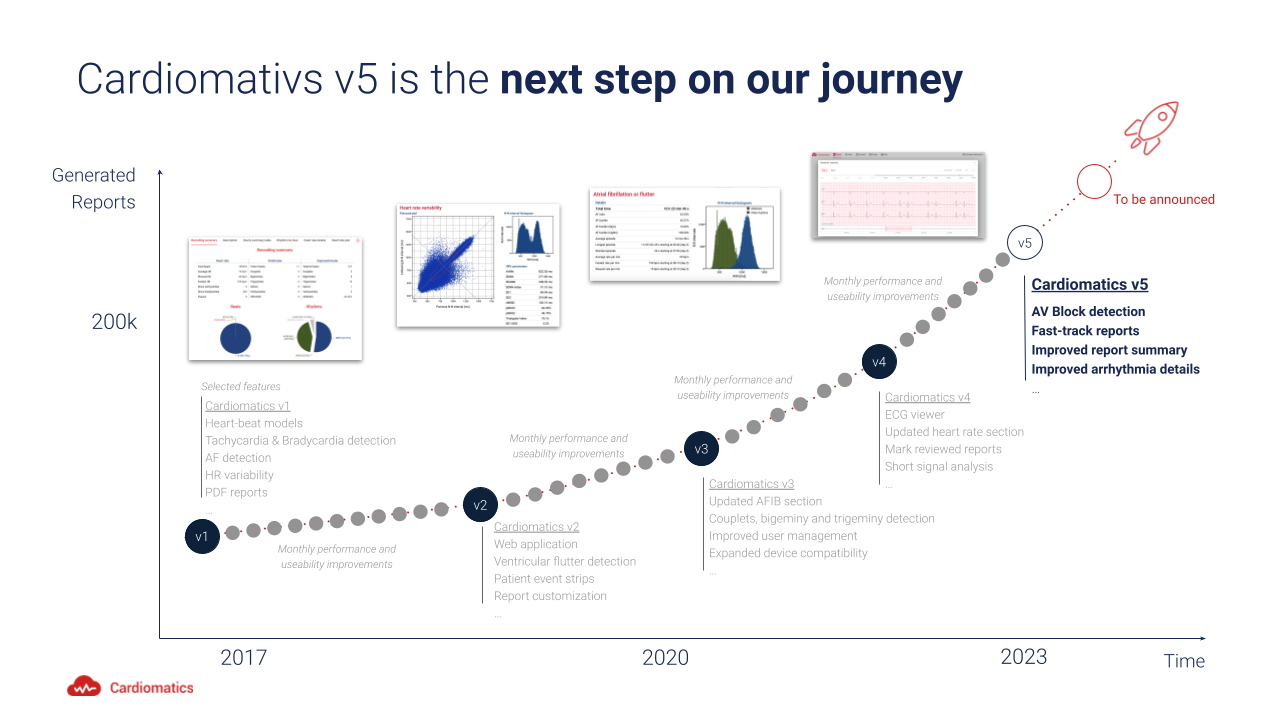 Cardiomatics now detects 2nd and 3rd-degree AV blocks!
With its accurate, fast, and easy-to-use ECG interpretation platform deployed to more than 200 clinics and 1000 users so far, Cardiomatics has shown how clinical-grade and validated AI can be used to automate the ECG analysis workflow allowing medical professionals to save hours per day and focus on clinical decisions.
With this next generation, we are taking it to the next level with major new functionality that unlocks insightful reports and streamlined workflow options.
AV block detection is one of the most important features we are proud of. We have implemented an Atrioventricular block detection of 2nd and 3rd degree. If the AV block detection is enabled, the following sections will be updated with relevant information:
Segments with AV blocks in "HR plots"
Definitions in the "Algorithm settings"
AV block strips will appear in "Selected ECG events".
On top of that the "Atrioventricular blocks" section will present detailed AV Block statistics.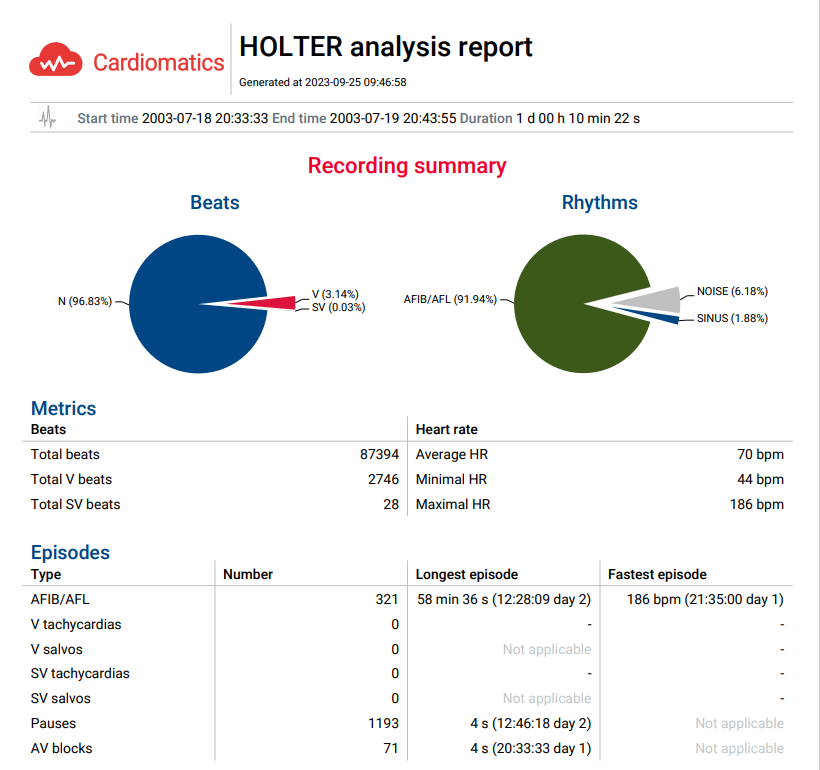 New layout of the Cardiomatics report!
Cardiomatics analysis has changed so it is now even more easy-to-use and intuitive. This new layout was designed to synthesize the most critical insights on the first page and thus allow medical professionals to review the detailed findings from the Cardiomatics analysis faster. You now immediately see:
"Beats" and "Rhythms" charts
"Metrics" and "Episodes" tables
ECG Viewer links for the fastest and longest episodes in the "Episodes" table.
Details such as the doctor's name, patient data, start and end time of recording are placed on the top of the report.
Possibility to request a fast-track analysis
It's now possible to mark signals as a fast-track whenever you need a result of your examination beyond the standard SLA. Signals can easily be marked for fast-track during upload or later when still in analysis.
Request a free trial of Cardiomatics
Check the potential of AI ECG interpretation for yourself. Get access to Cardiomatics and accelerate Your ECG analysis with cutting-edge AI technology:
Provide comprehensive diagnostics for more patients
Gain more time for clinical decision making and treatment of your patients
Enjoy unrestricted access to your ECG reports.